Written by Sherry
Monday, 25 June 2007 16:50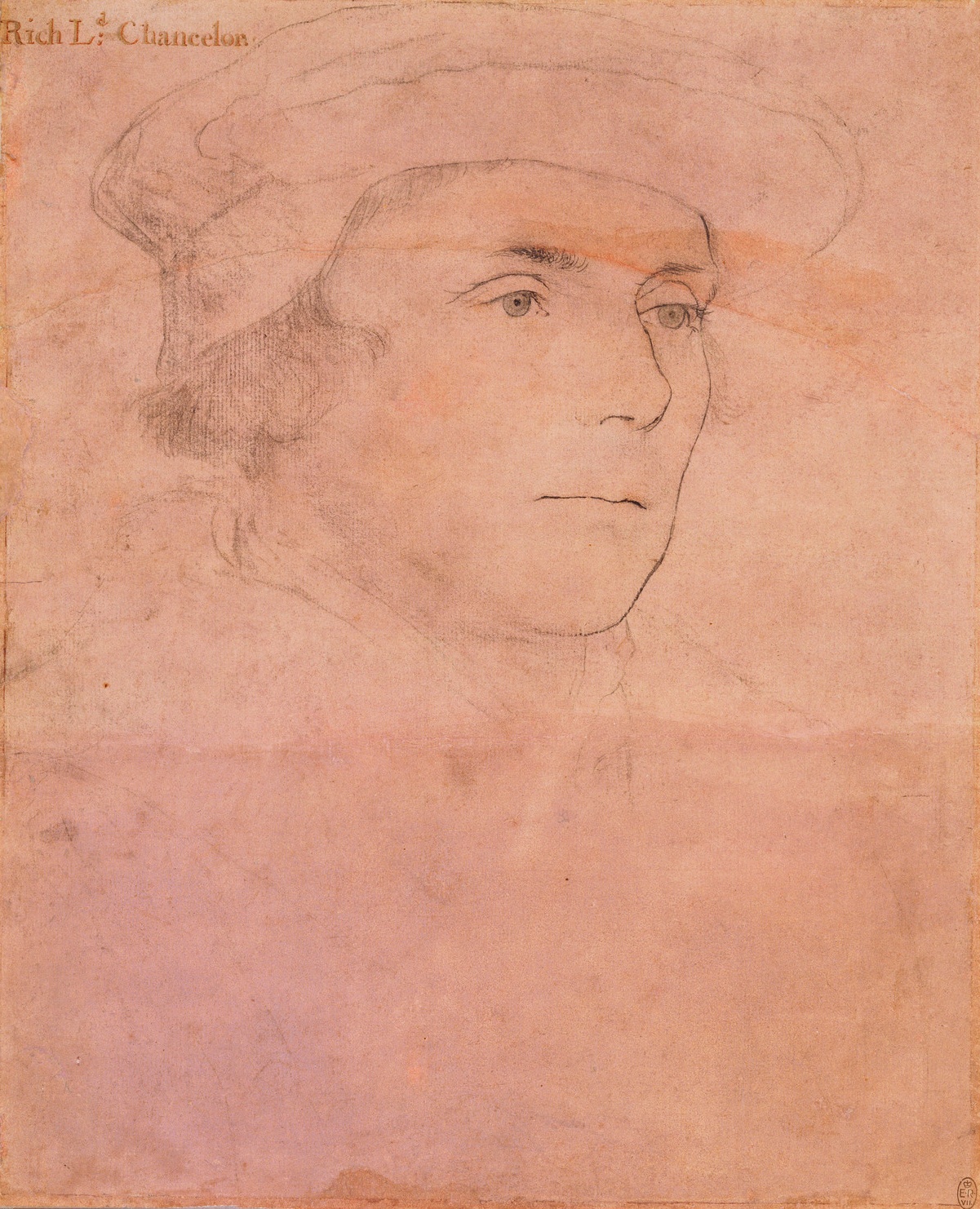 Richard Rich, of course, is the amoral social-climbing young man in A Man for All Seasons, (played by the young John Hurt) who lies about More at his trial and ensures that he is condemned to death. The classic exchange, based upon Will Roper's biography, when More is told that Rich has become attorney general for Wales:

"Why Rich, it profiteth not a man to gain the whole world and lose his own soul, but for Wales . . ."

(Note the all too common English distain in that day for the wild Welsh, which had produced the Tudors. Even saints were not immune.)

It's hard to believe that the real man, who looks so young and innocent in the Holbein drawing above, was even worse than he is portrayed in the movie. A particularly nasty governmental Vicar of Bray*, Rich wasn't just a turn-coat to save his own skin, but an active party in the destruction of others on all sides of the religious and political divide. Richard Rich seems to have cared only for . . . Richard Rich.

Strangely enough, Rich was Catholic, but that didn't stop him from being one of the prime actors in the dissolution of England's monasteries. The French Ambassador Marillac to call Rich 'the most wretched creature ... the first inventor of the destruction of the abbeys and monasteries [and] the general confiscation of church property',. He made a fortune overseeing the sales of monastic lands and had to later defend himself against charges of corruption.




As soliciter-general, Rich actively prosecuted those who refused to accept the licitness of the king's second marriage to Ann Boleyn or accept Henry as Supreme Head of the Church in England.

Five years, after More's death, Rich played almost exactly the same role in the condemnation and execution of Thomas Cromwell, who is portrayed as his mentor in A Man for All Seasons.

Rich, who was a hands-on kind of guy, even as chancellor, apparently personally tortured Anne Askew, an ardent Protestant in order to gain information that would incriminate Catherine Parr, Henry's sixth wife. Anne withstood months of torture but refused to speak and was eventually burned at the stake - and Catherine Parr managed to survive the King himself.

Rich always kept his really important fences mended. When asked to speak at the opening of Parliament in 1536,he compared Henry VIII to Solomon for prudence and justice, to Samson for strength and bravery, and to Absalom for beauty. Equally extravagant was his concluding address likening the King's care for his subjects to the sun's influence upon the world.

Richard Rich did become chancellor of England in 1547 and in this capacity was involved in the harsh treatment given to the then-Princess Mary, who was Catholic. He originally suported Lady Jane Grey as Queen but quickly changed his coat again and declared for Mary. During her reign,Lord Rich took an active part in the restoration of the old religion in Essex and was one of the most active of persecutors.

Somehow, I'm not surprised.

Rich survived them all: Henry, More, Cromwell, Catherine Parr, Lady Jane Grey, Mary Tudor, and died - "in his bed" - in 1567.

On the bright side, Rich was voted "worst Briton of the 16th century". Quite a distinction in a century that produce so many remarkable Britons.

*The Vicar of Bray was a Papist under the reign of Henry VIII, and a Protestant under Edward VI; he was a Papist again under Mary, and once more became a Protestant in the reign of Elizabeth. When this scandal to the gown was reproached for his versatility of religious creeds, and taxed for being a turncoat and an inconstant changeling...he replied, 'Not so neither, for if I changed my religion, I am sure I kept true to my principle; which is, to live and die the Vicar of Bray.' " (He succeeded and is buried there.)